The 17th edition of the Bishop Mike Okonkwo Football Championship is set to kick off on May 18 at National Institute for Sports (NIS) pitch, National Stadium, Surulere, Lagos.
The Chairman, Main Organizing Committee of the championship, Deacon Malachy Ndubuzor disclosed this during a seminar and draw ceremony held at The Redeemed Evangelical Mission (TREM) Headquarters, Lagos.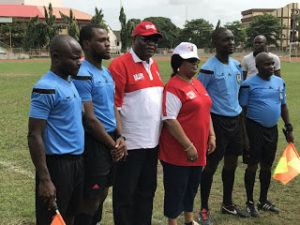 Ndubuzor revealed that the round of 64 matches will be decided on a home and away format, while the round of 32 will be decided in one meeting.
While adding that 64 male and eight female teams have registered to compete for laurels at the championship, he explained further that provisions for free blood pressure and pulse tests were made available for players and officials at the seminar to ensure they are medically fit to compete, the Authority news reports.
He said, "The competition is about to kick off and as usual we'll always bring something new which begins to unfold with the kick-off. However, the most important thing is that all the 72 teams made up of 64 male teams and 8 female teams are all ready and we're also ready for them.
"Discipline is the most important of it all. We don't want to bring out players that don't understand what it means to play according to the rules of the game, that's why each year we put together rules and regulations guiding the competition and this has helped us in ensuring that discipline is maintained and anybody who dares to disobey our rules gets the marching order.
"We've had situations where we suspend teams and they're not allowed to register the next year; we're going to keep to these standards.
"This year's competition will be its' 17th edition and we've decided to provide medical test on blood pressure and purse for all the teams to ensure that the players and their managers are fit to compete.
"It's also important for teams to know that we mean business in the championship. There are no favorite teams, every team must fight for the title." Ndubuzor explained.
This entry was posted in
Christianity
,
News
,
Sports
and tagged
17th Bishop Okonkwo Football Tournament
,
Deacon Malachy Ndubuzor
,
Lagos
,
Main Organizing Committee of the championship
,
National Institute for Sports (NIS)
,
National Stadium
,
Surulere
,
The 17th edition of Bishop Mike Okonkwo Football
,
The Redeemed Evangelical Mission (TREM) Headquarters
. Bookmark the
permalink
.